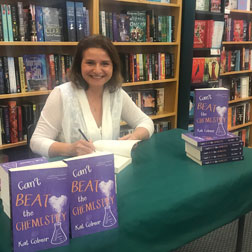 Kat Colmer is the author of Can't Beat the Chemistry and Remind me Why I'm Here? Find out more about Kat.
1) What inspired you to write Remind Me Why I'm Here?
I've always been interested in the fish-out-of-water story concept, so when a sudden image of Maya's character—an animal-shy girl stuck in the middle of a sheep paddock—appeared to me, I knew I had to write her story. Add farmer boy, Gus, who wishes she'd landed in someone else's paddock and you have a story canvas full of interesting possibilities.
2) Who is your favourite character in Remind Me Why I'm Here?
That's like asking me to choose between my children! Choosing favourites will only lead to tears, tantrums and trouble. Of course, I love my main characters Maya and Gus equally. All their faults and quirks and insecurities make them both lovable in different ways. But I do have a soft spot for Gus's older brother, Patrick. He's the kind of older brother everybody deserves.
3) Who is your favourite fictional character? What was your favourite children's book growing up?
No can do. I'm afraid I'm very much polycharacterous. Yes, that's a made-up word, but authors are allowed to make up words, and this one means I have many favourite characters. There are Tris (Divergent) and Katniss (Hunger Games), two strong and smart young women who go above and beyond for those they love. Then we have Kat (Unrequited) and Henry (Words in Deep Blue), two teens looking to find themselves in music and books. Of course, when talking of favourite characters, I have to mention Lizzy Bennett (Pride and Prejudice) and Emma Woodhouse (Emma)—my favourite Austen characters by far. Polycharacterous, see? I can never lay loyalty at just one character's feet.
As for my favourite childhood Australian book, that's got to be Melina Marchetta's Looking for Alibrandi. The 'otherness' the main character, Josephine, experiences in the novel really resonated with my teen migrant self.
4) How many books have you written/published?
I've written and published three young adult books so far: The Third Kiss (paranormal), Can't Beat the Chemistry (contemporary rom-com), and about to be released Remind Me Why I'm Here (rural set contemporary rom-com). I've also published several young adult and middle grade short stories.
5) When did you first start writing? What inspired you?
If you'd told me ten years ago that I'd be a multi-book published young adult author in 2020, I would have sprayed my mouthful of cappuccino all over you laughing. Writing came to me later in life, specifically when I took a sideways career step from English teaching to Teacher Librarianship. I've always read and loved YA, but it wasn't until I started working in school libraries, surrounded by so many fantastic stories on the shelves, that the itch to one day sit alongside the writers I admired reared its head.
6) Tell us three interesting things about yourself?
English is my third language! Polish is my first (although I can't read or write it), German is my second language (and I'm desperate to read one of my novels in German one day!).
I love to sing! Many years ago, I trained with an Opera Australia soprano. I still sing on occasion at functions and such.
I love gelato. All the nut flavours. Gimme Hazelnut and Pistachio and I'm in heaven!
7) How do you come up with your characters?
Like I've mentioned earlier, characters come to me, rather than me coming up with characters. My stories tend to start with a character. They materialise out of nowhere, plonk themselves on my couch and proceed to tell me about their story premise. All my novels so far have started this way: Unlucky in love Jonas (The Third Kiss), socially awkward MJ (Can't Beat the Chemistry), and wannabe mechanic Maya with her mysterious Aussie must-do list in Remind Me Why I'm Here. It makes sense, really. Stories would have little meaning without character, no matter how fantastic the premise.
8) How do you feel when you finish writing a story? How is this similar/or different to how you feel when you finish reading a story?
Relieved, honestly. Getting that first draft of a story down is hard work. The fun really starts once all the words are out of my head and on paper. That's when I start shaping and stretching the story to see how it works best. Then there's excitement when the copy edits arrive in my inbox because that means we're not far off my book baby being out in the world.
When I finish reading a book, however, I often feel sad. The end of a book means having to let go of characters I've come to love. It's like saying goodbye to a good friend who's been visiting.
9) What does your writing schedule look like?
Schedule? What schedule? I work full time heading up a large senior school library, so my 'schedule' consists of grabbing any and all possible time between work and family commitments to write. During term time things are quite haphazard and sporadic, so I tend to get bigger chunks of writing done during school holidays when I can immerse myself in the story for longer stretches of time.